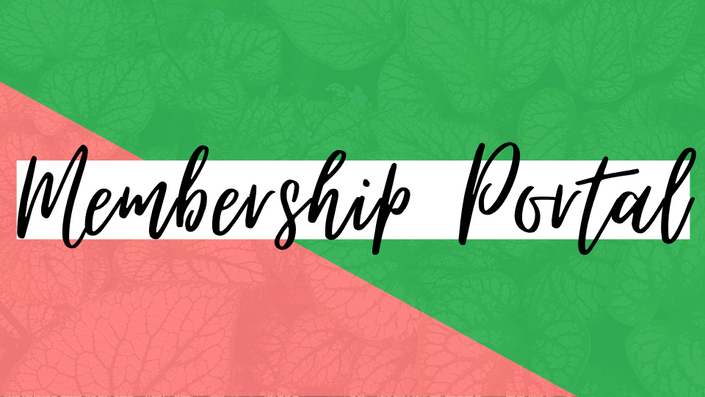 The Membership Portal
Guided coaching and focused content to help you make your Instagram work for you
Ready to transform your teacher Instagram account into a powerful tool that attracts your ideal audience?
Using Instagram doesn't have to leave you feeling frustrated and alone. It is possible to develop an effective strategy that is easy to maintain and that actually leads to sales. Even better? You don't need thousands and thousands of followers in order to do it.
Instagram is the perfect tool to establish your brand and grow a loyal following full of customers or clients that actually want what you have to offer. There are actual strategies you can implement and proven methods you can try that will help you connect with other teachers, talk about the products, resources, services, and ideas you have to share, and not take up hours of your time.
This membership isn't like other memberships. There aren't hundreds of topics to sort through, detailed tasks to complete, hours of videos to watch, or increased costs every year. We're keeping it simple: you, your goals, our expert coaching, and a price you can afford.
Here's what you get when you join:
enrollment in an exclusive Facebook group where you can ask questions, make new friends, view live coaching calls, and find support in reaching your goals
monthly content focused on the theme for the month
The monthly content includes:
a detailed workbook to help you set goals, track data, reflect on your growth, and make plans for the month
a live coaching call with expert strategies, technical tips, and Q&A to help you make your Instagram account work for you
Joining the membership also gives you instant access to an entire library of previous coaching calls so you can find advice on the topics you're wondering about. This library is valued at over $600, but joining the membership lets you view the content at no extra cost.
Course Curriculum
Welcome
Available in days
days after you enroll
The Brand Framework
Available in days
days after you enroll
Join the Community
Available in days
days after you enroll
Frequently Asked Questions
When does the group start and finish? How long do I have access to the group?
Membership in the group starts as soon as you complete your purchase. You will have access to the group as long as you are enrolled. If you cancel your enrollment, you will lose access to the group and the content.
What makes a membership different from a course?
All the courses and enrollments offered in the Teacher Instagram School teach effective strategies, mindset shifts, and easy techniques for using Instagram as a powerful tool. Our courses are regularly updated to make sure they share content and advice that is relevant, accurate, and up-to-date. Our courses are all one-time payments with access to all periodic future updates to the content. This membership is a monthly or yearly subscription with new content and coaching available every month. The difference between the membership and the courses is that the membership gives you access to live coaching, mentoring and support, while the courses are self-paced and self-guided.
Is this just for Teachers Pay Teachers sellers?
No! The strategies taught in all of our courses and enrollments are for anyone using their brand to connect with other teachers. Many of our students are TPT sellers, but we also have teachers who sell lanyards, t-shirts, stickers, headbands, courses, memberships, coaching, private curriculum, etc. If teachers are your target audience, then this is for you!
What if I don't have an Instagram account yet? Or what if I've been using Instagram for years?
This membership is for you, no matter what stage you're in with your business or your Instagram account. Because your work will be focused on your goals, it doesn't matter where you start, as long as you're ready and willing to make changes to move forward.
Featured Courses

View All Courses